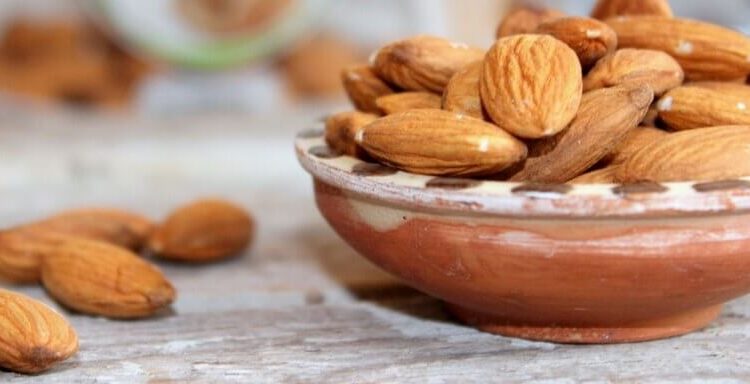 What to do with almond pulp?
If you start making almond milk regularly you will end up with a lot of almond pulp. Every cup of almonds turned into almond milk leaves about half a cup of almond pulp. If you are like me, it will hurt to simply throw it away. Yes, much of the flavours and oils have been pulled out into the milk – but there remains goodness yet in that pulp, and I'm not just talking fiber.
100g of Almond pulp contain 388 calories, 70% of which are carbs (66g), 17% fat (7g) and 14% protein (13g). Source: https://www.myfitnesspal.com/
Fresh almond pulp keeps in the fridge for up to a week (or freeze it to keep for longer). It can be added to granola, bread recipes and other baking ventures. Or add it to curry for some extra body. It also makes a great binder for holding together veggie burgers.
Or try this hearty almond spread recipe:
Mix the following ingredients, adding them in one by one until well combined (a food processor can take over the chopping)
• 2 cloves of garlic, chopped
• 6 tablespoons fresh lemon juice
• 1/4 cup sun-dried tomatoes, soaked in water (oil packed is fine, just adjust oil later on), chopped
• 1 Tbl mustard
• 4 sprigs thyme (or other herbs!), chopped
• 1 1/2 cups fresh almond pulp
• 1/2 cup olive oil
• 2 tablespoons nutritional yeast
• salt and pepper to taste
The pate should be smooth and fluffy. It actually gets better as it ages and ferments slightly, so keep in a sealed jar in the refrigerator until needed. Serve with bread, crackers, raw veggies, or use as a spread anywhere you like.
Alternatively, you can dry the pulp, store it in an air-tight jar, and use it just as you would (almond) flour.
Have fun trying out new things with almond pulp. The possibilities are endless!
Using almond pulp in skin care:
Almond pulp face mask:
Almond pulp has a very soothing and softening effect and works well on both dry and combination skin. With a few extra ingredients you can make yourself an all natural face mask without nasty chemicals. Here is one recipe:
• 1 tablespoon almond pulp
• 1/2 ripe banana, mashed
• 1 tbs almond milk
• 1 drop of peppermint oil
• 2 tablespoons oats
Mix all ingredients well, and store in a small, lidded container for up to a week in the fridge.
Almond pulp body scrub:
Using almond pulp as a body scrub is a fantastic way of removing dead skin cells and gently adding moisture to your skin. You can use this almond body scrub in the shower. Even better, use it in the bath and then just soak in the water and oil to give your skin a good almond infusion. Your skin will feel like silk when you hop out of the tub.
• 1 cup almond pulp
• 2 table spoons cold pressed sweet almond oil (or cold pressed olive oil)
• 3 to 4 drops of pure essential oil of your choice (optional). Tip: lavender oil is very relaxing!
Mix the above ingredients and pamper your skin as soon as possible, as this mixture will only keep in a glass jar in the fridge for a few days.